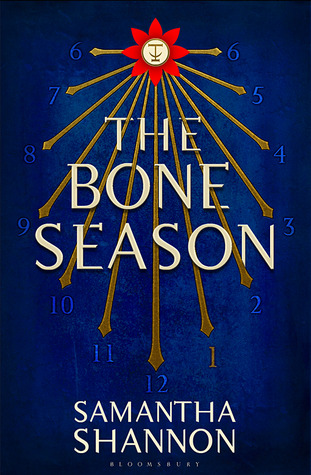 Series: The Bone Season #1
Date Published: August 20, 2013
Publisher: Bloomsbury India
Pages: 466
Source: Review copy provided by Bloomsbury India
Format: Paperback
Goodreads Synopsis: It is the year 2059. Several major world cities are under the control of a security force called Scion. Paige Mahoney works in the criminal underworld of Scion London, part of a secret cell known as the Seven Seals. The work she does is unusual: scouting for information by breaking into others' minds. Paige is a dreamwalker, a rare kind of clairvoyant, and in this world, the voyants commit treason simply by breathing.
But when Paige is captured and arrested, she encounters a power more sinister even than Scion. The voyant prison is a separate city—Oxford, erased from the map two centuries ago and now controlled by a powerful, otherworldly race. These creatures, the Rephaim, value the voyants highly—as soldiers in their army.
Paige is assigned to a Rephaite keeper, Warden, who will be in charge of her care and training. He is her master. Her natural enemy. But if she wants to regain her freedom, Paige will have to learn something of his mind and his own mysterious motives.
The Bone Season introduces a compelling heroine—a young woman learning to harness her powers in a world where everything has been taken from her. It also introduces an extraordinary young writer, with huge ambition and a teeming imagination. Samantha Shannon has created a bold new reality in this riveting debut.
Buy it here – Amazon India
| Flipkart | Amazon US
| The Book Depository | Add on Goodreads
My View: I had been hearing good things about this book. So when I landed a chance to read and review it, I jumped, of course. Did I read the book summary? Did I even notice its genre? Well, as is the case with me, I always jump into a book blinded. Although I am thinking I really need to atleast look at the genre from now on. Because sci-fi is so not my field. Fantasy also only rarely makes the cut. Well, Sci-fi should be fine if I can get my head around it but no luck with that. *sigh* This reminds me of Wool by Hugh Howey. That was another of my impulse reactions, although I did end up giving it 4 stars and loving it regardless.
With The Bone Season, things are a bit different. Its sheer size scared me at first. A 466 page book! I have a tendency to gravitate towards shorter books. 😉 I decided to read a bit about the author first. Wait, she was what 21 when she wrote the book? And considering she is being hailed as the next J. K. Rowling is something. It almost put me to shame. Did I while my life away while people were busy writing it out? Phew! Anyway, not to lament on it more.
Once I did get to reading, I think my mind keeled over. I couldn't understand any of it. It was like I was reading a foreign language. I was pretty sure I had made a mistake with the genre. This just wasn't my thing. Even my Kindle dictionary gave up over the words mentioned. A lot later, I realized there was glossary at the back of the book. *facepalm* Anyway, it was tedious to go back and forth, so I sat down and finished reading the glossary first. How many words did you think I managed to remember the meaning of? I think I can count those on my fingertips. Bleh.
Next thing I did was skim through peer reviews. I saw a lot of readers had faced a problem with the new information but managed to love it anyway. That did boost my confidence a bit and I felt a lot less stupid than earlier. So with a boosted morale, I read on.
*Insert here a huge outstanding applause for the author* At such a young age, the author has done really well for herself. The world building is intense and just mind-blowing. I still can't get my head around it. It's mind numbing. And don't even ask me the information. So much of it. I noticed some reviewers have called it information dumping but the term feels kind of rude. So I will stick to information overload, especially in my case, since I don't read much of the genre and can be called naive.
After some time, I decided to stop grasping information and focused on the plot instead. Viola, it hit the mark. I remember using this strategy with Wool and it having worked even then. Once I acquainted myself with a general idea of the new world, the characters and the where goes what, I found myself settling comfortably. And therein began my liking towards the book.
Once I had done that, the pages flew by, the words read themselves and I drifted with the plot. I can't even begin to imagine the author's dreamscape *snickers* (read the book to know what I am talking about or if you already know it, good for you). How vividly she would have crafted the world and made sense of it. To be frank, it does take the reader time to sort things out for themselves. Since the world was created by the author, she might have had easy access to all her concepts but the poor, bewildered reader was hit with it on all sides at once. And that is the biggest flaw of the book.
But the plot, the world building, the characterization, the unveiling and development of characters, the plot progression is all right on.
I especially loved the last quarter of the book. It was packed with more action and less information. Everything happened so fast and I loved it all.
And having read this book, I am hoping I will do better with understanding the next one. I'm jumping into it right away.
3.5/5 stars – Somewhere between 'I liked it' and 'I really liked it'.
(All opinions expressed are my own and in no way influenced.)
Huge thanks to Bloomsbury India for providing the review copy.