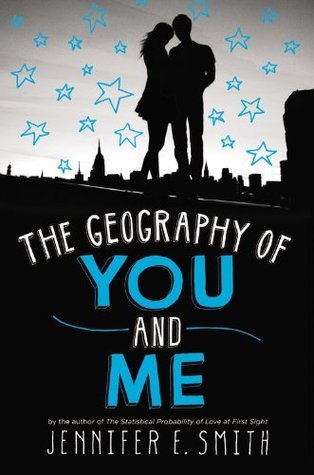 Date Published: April 5, 2014
Publisher: Poppy
Pages: 337
Source: Local Library
Format: Hardback
Goodreads Synopsis: Lucy and Owen meet somewhere between the tenth and eleventh floors of a New York City apartment building, on an elevator rendered useless by a citywide blackout. After they're rescued, they spend a single night together, wandering the darkened streets and marveling at the rare appearance of stars above Manhattan. But once the power is restored, so is reality. Lucy soon moves to Edinburgh with her parents, while Owen heads out west with his father.
Lucy and Owen's relationship plays out across the globe as they stay in touch through postcards, occasional e-mails, and — finally — a reunion in the city where they first met.
A carefully charted map of a long-distance relationship, Jennifer E. Smith's new novel shows that the center of the world isn't necessarily a place. It can be a person, too.
Buy it here –Amazon India
| Flipkart | Amazon US
| The Book Depository | Add on Goodreads
My View: The author's 'The statistical probability of love at first sight' has been on my to-read list since forever. In fact, I think it has been more than 2 years since I bought it but I still need to get to it. But surprisingly when I saw this one sitting on a library shelf, I decided to read this one first. You know how it goes, you borrow books from library and they are the ones actually getting read while the ones on your own shelf sulk away. Oh, well.
As usual, I went in this book blind, no back cover reads, no reviews gone through. Just straight dunk-in. So what did I find? To begin with, I had a feeling this might be getting somewhere but then after another few pages, I thought maybe not. This seems like one of those cliche'd, been there-done that read.
I truly found love for this book in the second half. I can see you nodding your head there. You know me too well, don't you? Wherever travel comes in a book, I am all for it. And I gobble it up like it's my very favorite food. Well, actually, it is! Even though I would have wanted some more of that travelling and descriptions but I realized the book wasn't about that.
As I go through some of the reviews now, I realize a lot of people didn't like this one for it being cheesy and cliche'd and almost unbelievable. Okay, I would agree it is a bit cheesy and cliche'd and unbelievable. But then isn't this what books are for? Sometimes life doesn't give you what a book does. You get to believe and hope and make those dreams come true. That's not heard of in real life. And that's what got to me. It's what made me love this book. The little thoughts, the similar thinking styles of the main characters. That's not possible, I know! But still I loved it. I gorged on it like anything. It gave me my breath of air, my unfulfilled dream came to fruition. Umm, okay, I know you are thinking I have probably lost it by this time.
Some of the writing in there is truly worth savoring and I read few sentences multiple time just to let all that beauty sink in.
Perhaps it could be the stage of my life from where I'm looking at it that this book makes absolute sense. It makes me see how this book is believable, how it can happen. It makes me want to fall in love and stay there, even at a distance but still in love. Ahh, the feeling.
I think Ms. Smith has given us a fresh concept albeit with the help of some cliche'd story line and instances. I believe this is one of those books that had it come at any other time, I might have given it a pass and commented on it being cheesy but right now, it means the world. It means everything. And someday I would like to send that postcard and 'wish you were here'.
4/5 stars – I really liked it. 
(All opinions expressed are my own and in no way influenced.)