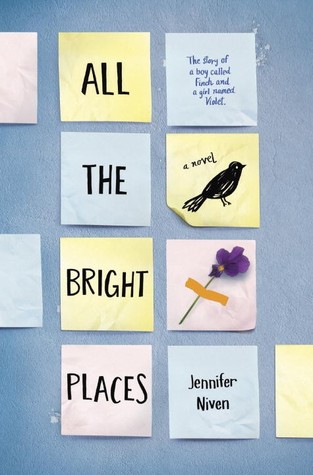 Published: January 6, 2015
Publisher: Knopf
Pages: 384
Source: NetGalley
Format: Kindle ebook
Goodreads Synopsis:
The Fault in Our Stars meets Eleanor and Park in this compelling, exhilarating, and beautiful story about a girl who learns to live from a boy who intends to die.
Theodore Finch is fascinated by death, and he constantly thinks of ways he might kill himself. But each time, something good, no matter how small, stops him.
Violet Markey lives for the future, counting the days until graduation, when she can escape her Indiana town and her aching grief in the wake of her sister's recent death.
When Finch and Violet meet on the ledge of the bell tower at school, it's unclear who saves whom. And when they pair up on a project to discover the "natural wonders" of their state, both Finch and Violet make more important discoveries: It's only with Violet that Finch can be himself—a weird, funny, live-out-loud guy who's not such a freak after all. And it's only with Finch that Violet can forget to count away the days and start living them. But as Violet's world grows, Finch's begins to shrink.
This is an intense, gripping novel perfect for fans of Jay Asher, Rainbow Rowell, John Green, Gayle Forman, and Jenny Downham from a talented new voice in YA, Jennifer Niven.
Buy it here –  Amazon US
| The Book Depository | Add on Goodreads
My View: First off, that is a very interesting cover and I really like it. 🙂
The synopsis of this book says The Fault in Our Stars
 meet Eleanor and Park. I didn't like the former THAT much and haven't read the latter so I can't really say if this book is comparable to them in any sense.
But this book had my attention from the word go. Alright let me be frank with you, I am into YA and I love those books. But sometimes, they piss me off, big time. I guess teens are unreasonable and whiny and stupid at times but some books portray them in such a manner that's not believable at all and makes me say, 'oh really now?'. So imagine my sigh of relief when I say that this is not one of those books. No one is whining or being unreasonable. And at the same time, no one is being super-mature like an adult (yeah, that gets me bad too, teens can't think like adults, let them play their age). I guess I am a bit demanding like that. 😉
There's tragedy, lots of it but real and believable. There's travel, within state but hell, I love any kind of travel. You know me! Exploring different places, especially those unheard of, just my kinda thing. So that's another thumbs up.
The plot is innovative and tugs at the heartstrings. The characters, ahh, can I hug them please? Finch is adorable ( I fell in love with him at 5% of the book *big grin*) and Violet, I wanted to protect. She's so vulnerable. When I start rooting for the characters, I know the author has done a commendable job.
And the book is unpredictable, another plus in my criteria. I don't like knowing what's gonna happen, in advance. I love me some surprises.
Also, the book is funny in places. Brownie points there.
Oh I forgot, the book has awesome quotes that make me want to read Virginia Woolf. Now that's a first, right there!
Silly me! Completely forgot that one of its upside is dealing with mental illness and showing what goes on in the character's mind instead of focusing on his/her actions. It's a big step towards psycho-educating those who don't understand what could have been so terrible. I applaud the author for taking up this topic and especially more so when it must hurt to do so. Writing painful memories from our past isn't easy.
And the book broke my heart and made me cry buckets. But I still loved it. Need I say more? Oh yes, it made it to my top 10 read in 2014. Now that's something, right? What are you waiting for? Go read it.
4.
5/5 stars – I really really liked it.
Giveaway (US Only)
Win a paperback copy of All The Bright Places
About the Author – Jennifer Niven
By the time I was ten, I had already written numerous songs, a poem for Parker Stevenson ("If there were a Miss
America for men, You would surely win"), two autobiographies (All About Me and My Life in Indiana: I Will Never Be Happy Again), a Christmas story, several picture books (which I illustrated myself) featuring the Doodle Bugs from Outer Space, a play about Laura Ingalls Wilder's sister entitled Blindness Strikes Mary, a series of prison mysteries, a collection of short stories featuring me as the main character (an internationally famous rock star detective), and a partially finished novel about Vietnam. I was also an excellent speller from a very early age.
In 2000, I started writing full-time, and I haven't stopped… I've written eight books (two of those are forthcoming), and when I'm not working on the ninth, I'm contributing to my web magazine, Germ (www.germmagazine.com), thinking up new books, and dabbling in TV. I am always writing.